SMART MADE SIMPLE ™
Our people and the services we provide define our firm. We take pride in delivering a first class client experience.
Who We Are
Founded in 2013, Mero Concepts aims to provide reliable technology solutions for simpler, safer, and more enjoyable living. We partner with top brands in lighting, audio, video, and security to ensure intuitive and meaningful user experiences. Unlike the norm, we're there for you beyond installation—making tech interactions frustration-free. Our experienced team creates seamlessly integrated systems tailored to your space in Lakeway, Dripping Springs, and greater Austin, TX. Elevate your space with Mero Concepts—where technology works effortlessly for you.
Our Mission
Our mission is simple: enhance your daily life with customized tech solutions. Trust us to provide unmatched reliability and ease-of-use across properties. We take pride in delivering a first class client experience as a trusted local smart home company in the Lakeway, Liberty Hill, and Austin, TX area. Our experts serve as your personal tech advisors, meeting all current and future needs. We flourish through referrals, exceeding expectations for projects of any size or budget. Elevate your lifestyle with us.
Our Core Values
Accountability
We hold ourselves responsible for our actions, decisions, and their consequences. By taking ownership of our responsibilities, we build trust and transparency within our team and community. Our commitment to accountability drives continuous growth and fosters an environment of learning and improvement.
Integrity
We uphold the highest standards of honesty and ethical behavior in all that we do. Our actions align with our words, and we consistently strive to do what is right, even when no one is watching.
Gratitude
We approach every aspect of our journey with a deep sense of appreciation and thankfulness. We recognize and value the contributions of others, the opportunities presented to us, and the challenges that help us grow.
Mastery
We are dedicated to the pursuit of excellence and continuous improvement in all that we do. We approach challenges with a growth mindset, striving to become experts in our respective fields. Through relentless practice, learning, and refinement, we seek to attain mastery in our skills and knowledge.
Profitability
We recognize the importance of sustainable financial success as a means to support our mission and vision. By prioritizing profitability, we ensure the long-term viability of our organization, enabling us to invest in growth, provide for our team members, and contribute positively to the communities we serve.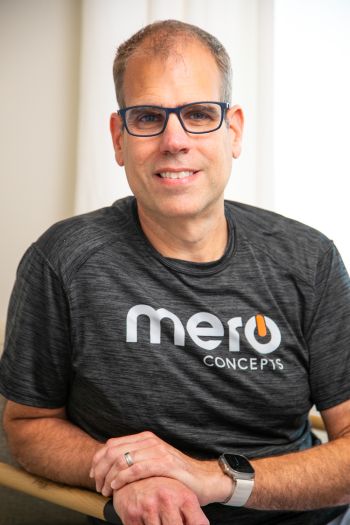 Marc Oliveri
CEO
Like many other integration company owners, my interest in all thing's tech started at a young age. I vividly remember taking apart my dad's orange desk rotary phone when I was four and somehow got it back together. I loved taking things apart to see how they worked. Sometimes they went back together successfully, and other times I had to replace the device. When I was eight, my parents tried to get in front of it by buying me a portable radio that was in clear plastic. Well, that didn't deter me, I still took it apart and put it back together. During those formative years, I was also introduced to my first computer, a Commodore Vic-20 that my dad purchased from a discount store on a business trip to New York. While I enjoyed what a computer could do and how it would allow for creativity, I was more excited about the hardware and how it was built. When I was eleven, I received my first proper dedicated 2-channel stereo setup from two different neighbors for doing yard work. With that came my love for music and audio. I would spend and still spend hours listening to all genres of music. There is something about music that can move your mind and soul to different times of your life.
Moving a decade into my high school and college years, my interest in working with technology grew. I would work with friends and friends of the family on building their car audio setups or installing security systems on their cars. It was always a challenge, with episodes of incredible highs and some humbling lows. While in college, a family friend let me know of an open position as an installer of security systems for a well-known (at the time) security company. I honed my installation skills and techniques on retro and new homes during that time. As the industry started moving to care more about the number of customers rather than the system's quality and what was best for the customer, I looked to move toward other opportunities. In the early 2000s, I began my career at Apple. I spent the next decade learning to appreciate the attention to form with purposeful function. Those years have also taught me much about providing an exceptional customer experience. While at Apple, my calling came to start Mero Concepts. The year was 2013, and I had a neighbor that was a restaurant owner and at the time opening new locations for two of his four restaurants. Unfortunately, he was working with an integrator that was delivering less-than-desirable results. The set ups were overly complicated, and too much attention to the spec sheet rather than the experience the system provided. That is when I decided that with the help of the industry, we could offer better solutions that focused on the experience with ongoing support after the initial installation. The neighbor is now a friend, and we still support his four restaurant locations.
Fast forward another decade, and Mero Concepts has grown to provide our services to restaurants and homeowners, private preschools, professional offices, and medical offices. In the past ten years, I have learned a lot about running a small business and have continued to experience the incredible joys provided by this work. Our small group of passionate installers and office personnel focus on providing our customers with an experience, not just a box of technology. Every day is a new adventure for us, and we look forward to each adventure.